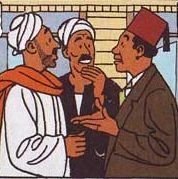 Industry Arabic is partnered with The Arabist, a leading source of analysis on contemporary Arab politics, culture, and economics. Each week, we provide a translation of a relevant article in the Arab press, which is published with expert commentary from Issandr El Amrani and the Arabist team. Here are three of our recent translations:
The "Tintin" of the Arab uprisings
By Sobhi Hadidi
More widespread than it was before, it is more correct to say that it has woken up after slumber [then] revived after a stagnation that was more like extinction — a phenomenon known in colonial history by a name of strange derivation, ambiguous sense, and extraordinary scope — the "Arabist." Read more…
"The Constituent Assembly and the Crisis of Consensus"
By Ziad Bahaa-Eldin
Last Saturday afternoon, the plan designed to achieve consensus among the political forces hit a setback, at least in regards to drafting a new constitution for Egypt in which all of society's forces participate. The setback occurred when the major parties in Parliament limited deliberation and discussion, and in a few, brief minutes made use of the majority they enjoy as they rushed to finalize the formation of an assembly to draft the constitution. Read more…
"What's happening now is not a 'spring,' but a new 'Sykes-Picot' to divide the Arabs"
By Mohamed Hassanein Heikal
Writer and veteran political analyst Mohamed Hassanein Heikal has stated that the events the Arab world is now witnessing are not a "spring" but a new "Sykes-Picot" to divide the Arab region and divvy up its resources and territories as part of three plans. The first plan is "Euro-American," the second is Iranian, and the third is Turkish, in addition to an Israeli half-plan to stymie the Palestinian issue. He argued that revolutions are not factory-made and it's impossible for them to succeed this way. Read more…
If you're ready to begin or discuss a translation project, just press the button below for your free translation quote. We strive to get a personalized project quote back within 30 minutes during normal business hours (Monday – Friday 8-6 EST).