No iftar feast is complete without a soup, salad, and tasty fruit drink. In celebration of Ramadan, we've put together three of our favorite Arabic food recipes that are frequently served during the post-sunset, pre-dawn hours when observing Muslims may eat. Whether you're breaking the fast yourself, or contributing to a fast-breaking meal with friends and colleagues, you can't go wrong with these classic dishes.
Fattoush
(Serves 4)
Fattoush salad, a staple of Levantine cuisine, is at the heart of almost every Iftar. With a delicious mix of greens and vegetables, it offers a valuable amount of fiber, vitamins, and water to provide energy and hydration for the hours ahead.
Ingredients:
½ loaf of Arabic bread, toasted or fried
8 leaves romaine lettuce, roughly chopped
8 tomatoes, diced in cubes
3 cucumbers, roughly chopped
3 radishes, roughly chopped
4 scallions, chopped
½ cup lime juice
2 garlic cloves, minced
½ tsp dried mint leaves
2 tbsp vinegar
½ cup olive oil
1 cup parsley, chopped
¼ cup watercress
1 green pepper, chopped
½ tsp ground sumac
1 tsp salt
Preparation:
For the sauce: in a small bowl, mix garlic, salt, oil, vinegar, dried mint leaves, lime juice, and ground sumac until combined. Put aside.
Cut bread into small pieces. Toast or fry in oil and put aside.
Wash, sieve, and chop parsley, watercress, and lettuce.
Mix chopped vegetables in a large bowl. Add toasted or fried bread.
Add sauce to the bowl and mix well.
Jallab
(Serves 4)
Ingredients (serves four)
One cup of seedless raisins
One cup of grape molasses
¼ cup of rose water
1 ¼ cups of sugar
4 cups of water
A handful of pine nuts and raisins (soaked) to garnish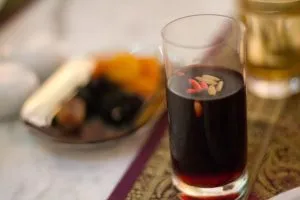 Preparation
Soak the raisins and pine nuts in two cups of water for 24 hours, then place them in the fridge.
Meanwhile, grind the seedless raisins using a blender and add two cups of water. Add the grape molasses, sugar, and rose water to the mix.
Blend well until the sugar fully dissolves then sieve the mixture into a glass pitcher using a piece of cloth. Keep the Jallab in the fridge. Serve with crushed ice and garnish with the soaked pine nuts and raisins.
Lentil Soup
After an entire day without water, the body needs rehydration, and what better way to do it than to start Iftar with soup? Not only is this lentil soup a delicious tradition, but it is also healthy and nutritious.
Ingredients (serves four):
1 cup of red lentils
4 cups of water
2 cloves of garlic
1 medium onion
1 teaspoon of cumin
½ teaspoon of salt
1 pinch of red chili powder
2 tablespoons of vegetable oil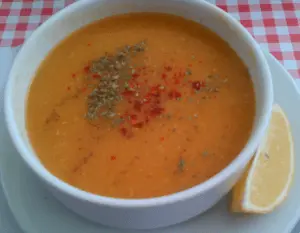 Preparation
Chop the onion into fine cubes and fry it in vegetable oil in a deep pot until transparent.
Pick over lentils and rinse them thoroughly, then add them to the pot with the water. Mix the ingredients and let them cook over low heat until the lentils soften and form a consistent texture with the water.
Add the crushed garlic, cumin, and salt to the mix, and let boil.
Pour lentil soup into the serving bowl. Decorate with red chili powder and oil. Best served hot!